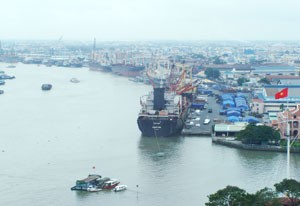 A view of Saigon Port in Ho Chi Minh City (Photo: Quang Tri)
The British Marine Equipment Association and the Ports and Terminals Group are bringing a trade mission to Vietnam from February 24 to 27 to participate in the exhibition Maritime Vietnam 2009 in Ho Chi Minh City, the British Consulate General announced Monday.
Members of the group will also be visiting shipyards and ports in the city, according to the statement, which adds that the visiting representatives will be seeking opportunities for collaboration and partnership with local companies in the sector.
The principal aims of the mission are to meet leading representatives of Vietnam's maritime industries sector and to receive an update on Vietnam's development in the sector. Members of the mission would also like to introduce their products and services at the exhibition stands and at a UKTI maritime industries workshop in Ho Chi Minh City.
The mission has been planned in close collaboration with UK Trade and Investment (UKTI), the British Government organisation that both supports companies in the UK doing business internationally and overseas enterprises seeking to set up or expand in the UK.
The mission team includes port operators, developers, representatives of the UK's leading international port consultancies, and suppliers of marine equipment and services.
The British Marine Equipment Association is a trade association representing and promoting the interests of UK suppliers of marine equipment and marine services to all types of merchant ships and craft.
The Ports and Terminals Group is a trade association of UK based port interests dedicated to private sector ports development and expansion across the world.