The US has become the biggest investor in Vietnam, pouring US$3.8 billion into two projects in the first four months of the year.
The figure reflects a request by the US's Winvest LLC group to raise its investment in the Saigon Atlantis Hotel project from US$300 million to US$4.1 billion. Meanwhile, a second new project has a registered capital of US$1.16 million.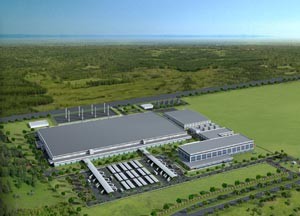 An artist's impression of the Intel factory in Ho Chi Minh City. With US$1 billion investment in Vietnam, Intel is one of the US biggest investors in the country.
The second and third largest foreign investors in the country are the Republic of Korea with US$969 million and Hong Kong with US$531 million.
The RoK became Vietnam's largest investor in Vietnam over the past two years, funneling more than US$10 billion in total into the country.
Foreign direct investment (FDI) into Vietnam increased slightly in the first four months of the year compared to the same period of the previous year, according to the Ministry of Planning and Investment's Foreign Investment Department.
The department says there have been 168 FDI projects so far with total registered capital reaching US$6.35 billion.