A US trade mission of more than 20 corporations wanting to expand operations in Viet Nam toured the capital of Ha Noi and business hub Ho Chi Minh City, and met with top government officials from March 8 to 11.
At the mission's meeting with Viet Nam's Prime Minister Phan Van Khai in Ha Noi on the last day, Matthew P. Daley, President of the US-ASEAN Business Council and head of the mission, pledged to lobby the US Congress to grant Viet Nam permanent normal trade relations and support its WTO entry bid.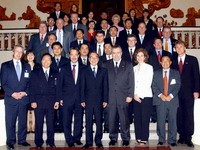 US business executives pose for photos during their meeting with Prime Minister Phan Van Khai
US-Vietnam Trade Council president Virginia Foote said, "Many American companies have really taken part in normalizing relations with Viet Nam since 1995. We will support Viet Nam when the Congress votes on granting the country permanent normal trade relation status."
PM Khai expressed his hopes that US businesses would actively participate in a business forum on the sidelines of the APEC summit in Ha Noi this November.
He said Viet Nam highly values its economic relations with the US and expects that the visit by US business executives will boost the investment and trade ties between the two countries.
The Government leader said he expected that US businesses would tap their huge investment and technology resources to invest in hi-tech industries, energy and infrastructure in Viet Nam.
Mr. Daley said that US businesses are increasingly interested in the Vietnamese market and promised to strongly support and actively participate in the upcoming business forum on the sidelines of the APEC summit.
During the meeting with Viet Nam's Deputy Trade Minister Luong Van Tu, head of the Viet Nam delegation for WTO accession, Mr. Daley said, "I expect Viet Nam to conclude WTO talks with the United States soon and join the WTO before the APEC summit takes place in Ha Noi [this November]."
"I'm certain that many more American companies will invest in Viet Nam," said Daley, adding that his mission was so impressed by changes in the Vietnamese economy.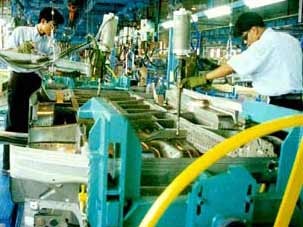 Ford Viet Nam workers produce cars
The companies on the mission included ACE Group, AIG, Altico Inc., Boeing, Cargill, Citigroup, FedEx, Ford, GE, GlaxoSmithKline, McDermott, J.P. Morgan Chase, Oracle Corporation, Phillip Morris, Time Warner, UPS, and United Technologies.
Viet Nam started its "doi moi" (reforms) in its economy in 1986 and was widely hailed as a tiger economy in Asia in the mid-1990s. Since the 1997 Asian financial crisis, Viet Nam's economy has grown by 7.5%-8% annually, and the country is increasingly seen as a good investment destination, attracting such firms as Intel, the world's biggest chipmaker.
Today, Viet Nam's move toward becoming a globally integrated market economy and a trade partner of the United States, the world's largest economy, promises an opportunity for Viet Nam to prosper, AFP quoted Mr. Daley.
"Certainly in the past Vietnam was not considered a premier investment destination, for reasons that all of you understand," Daley told a media briefing. "We think that is changing now, changing very substantially. Companies that come to invest here are going to compare Viet Nam to other countries," he added.
"They're going to want to make sure that the prospects here are indeed as good as you're going to find in other countries, if not better. Otherwise they'll go someplace else."
The US-ASEAN Business Council is due to discuss standards related to WTO membership with a Vietnamese delegation in Washington on March 17, 2006.