A US trade mission of senior executives is in Viet Nam from March 8 to 11 to show their support for the country's accession to the World Trade Organization (WTO) and sound out business opportunities.
Matthew P. Daley, President of the US-ASEAN Business Council (USABC)and Executive Vice President Virginia Foote (also President of the US-Viet Nam Trade Council), are leading the mission, comprised of over 40 representatives from 21 major American companies.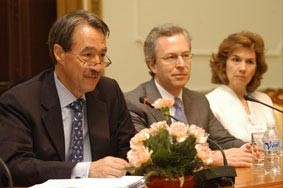 (L-R) Mathew Daley, Robert Schiffer, executive vice president of the US-Vietnam Trade Council, and Virginia Foote at the meeting (Photo: Saigon Times)
In his meeting with Ho Chi Minh City Chairman Le Thanh Hai in the city on March 8, Mr. Daley said he expected Viet Nam would conclude WTO accession talks with the US before the APEC Summit in Ha Noi this November.
He said APEC's meeting in Viet Nam has demonstrated the increasingly important role Viet Nam is playing globally, but for him, a WTO membership for the country is still of higher priority.
Chairman Hai gave the American visitors a quick run-down on Ho Chi Minh City's economic situation and development plans. He said the city would keep improving the investment environment to attract more American companies and other foreign enterprises.
The visiting American business executives said they expect to see more US investment in Viet Nam in general and Ho Chi Minh City in particular. After the business trip, they will make the Bush administration be more aware of Viet Nam's early WTO accession.
The companies on the mission include General Electric, Cargill, ACE Group, AIG, Citigroup, GlaxoSmithKline, Alticor, and Time Warner.