News that the U.S. Commerce Department will be monitoring the prices and quantities of imported Vietnamese textiles and clothing has the manufacturers worried that the USA will accuse Viet Nam of dumping and take the matter to court.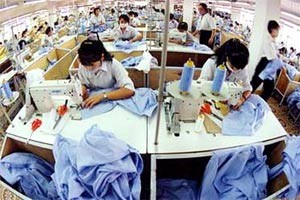 It is tough for Vietnamese exporters when the U.S. will monitor the prices and quantities of imported Vietnamese textiles and clothing.
To shed more light on the issue, Youth newspaper spoke with Mr. Diep Thanh Kiet, vice chairman of the Textile, Garment, Embroidery and Knitting Association of Ho Chi Minh City, also known as Agtek.
 
Mr. Kiet said that though the U.S. no longer imposed quotas on textile and garment imports from Viet Nam, it was keeping a lookout for any sudden surge in sales that might suggest Viet Nam was dumping its products on the U.S.
 
If there is an anti-dumping lawsuit, how will being a member of the World Trade Organization help Viet Nam (assuming it does join)?
 
Mr. Kiet: If Viet Nam is admitted to the WTO, it still won't be recognized as having a market economy. If the U.S. files a lawsuit against Viet Nam, it might choose another exporting country for the purpose of comparing the prices of similar products. In that case, Viet Nam will be at a great disadvantage.
 
Another worry is that Vietnamese exporters know little about the prices of goods exported to the USA by other countries, so it's hard to adjust their prices to a level that suits the U.S. authorities. Exporters should anticipate the worst if they are sued.
 
What do you think about the U.S. government monitoring sales of imported Vietnamese textile and garment products in America?
 
Mr. Kiet: We need to work with the U.S. to clearly define what they mean by dumping, what their criteria are. Things like the rate that sales must grow to cause them worry, and what their definition of a low price is.
 
We have to learn from China's experience. Although China attempted to limit its exports of clothing and textiles to the U.S. by taxing exports, the Americans eventually re-imposed quotas on Chinese exports.
 
How have American importers reacted to the US decision?
 
Mr. Kiet: The big American importers are bound to object because they'll have to pay tax if an anti-dumping tariff is imposed on textiles and clothing from Viet Nam. Or they'll look elsewhere for their supplies and give Viet Nam a miss. They're doing their calculations at the moment and trying to work out if they might lose in the long term by buying from Viet Nam. So it's tough for the Vietnamese exporters too, even tougher of course.
 
What should Vietnamese enterprises do to counter any detrimental action by the U.S.?
 
Mr. Kiet: We depend so much on the U.S. market. After all, it accounts for 75% of the industry's export revenue. Agtek must have a strategy to expand exports to other countries beside the U.S. And our manufacturers must learn the accounting rules and make sure their books, their financial transactions are transparent.
Pham Xuan Hong, chairman of Saigon Garment Joint Stock Company No. 3:
 
The Vietnamese government should monitor exports to prevent anything illegal, and the Trade Ministry can supervise exports by maintaining the internal system of distributing quotas among Vietnamese enterprises.
 
Jocely Tran, director of representative office of Mast Industries in Viet Nam:
 
We were both surprised and worried when we heard about the decision. It's forcing us to think long and hard before placing an order. I think the Vietnamese government should object to the decision because it's not only importers who are seriously affected; so too is Viet Nam's textile and garment industry.
Related articles: