U.S. Export Import Bank (Ex-Im Bank) chairman Fred Hochberg will visit Vietnam on February 5 – 8 with a delegation of senior Ex-Im Bank officials, said the U.S. Consulate General in Ho Chi Minh City.
"The purpose of his visit is to meet with international and local business and government partners to introduce new Ex-Im financing programs and identify opportunities for Ex-Im to finance high-quality U.S. products and services in Vietnam," the Consulate General said in a press advisory.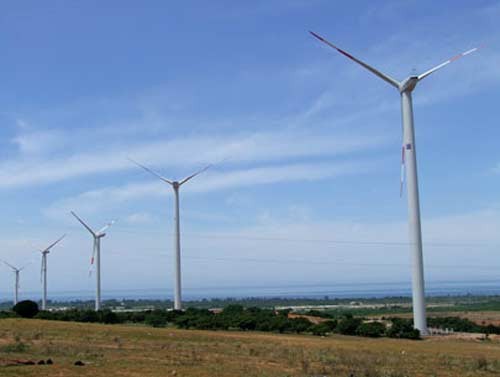 File photo shows a windmill farm in Binh Thuan Province on Vietnam's central coast. The U.S. Export Import Bank recently established a US$1 billion financing facility for clean energy development in Vietnam.
Mr. Hochberg is one of the highest ranking business executives in the Obama Administration, according to the U.S. Department of State.
According to the press advisory, Mr. Hochberg, while in Vietnam, will promote his bank's recently established US$1 billion financing facility for clean energy development in the country and share information with his Vietnamese counterparts about the bank's upcoming annual conference in April in Washington, D.C.
After one day of meetings in Ho Chi Minh City, he will travel to Hanoi on February 7 for two days of meetings with Government counterparts and business leaders in the healthcare, transportation, trade and energy sectors.
The U.S. Ex-Im Bank says that it is focusing its business-development in nine key markets namely India, Mexico, Brazil, Colombia, Turkey, South Africa, Nigeria, Indonesia and Vietnam – economies with growing infrastructure needs. The key sectors and areas of focus include renewable energy, construction and farm machinery, medical technology, agriculture, and avionics.