US's fifth largest pizza chain, Round Table, and two other restaurant chains, The Melting Plot and Carl's Jr. began looking for Vietnamese franchise partners December 11.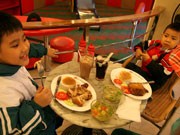 Fast food restaurants have become popular in Vietnam (Photo: Thanh Nien)
The US restaurants are looking for businesses to invest between VND5-85bn ($300,000-5,000,000).
Round Table Pizza owns 500 restaurants and The Melting Pot has developed over 130 fondue restaurants in US.
Carl's Jr. specializes in fast food, including hamburgers and sandwiches.
Two other US companies in the fields of information technology and children toys are also in the country looking for business partners.