Farmers and exporting companies are excited about the news that the United States allows the importation of Vietnamese blue dragon fruit beginning July 30.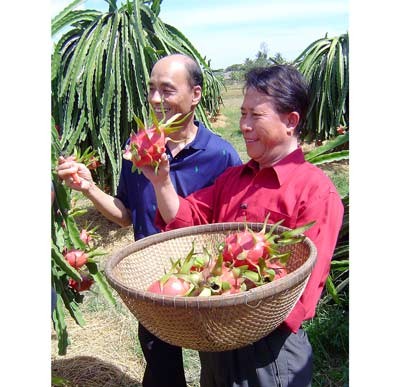 Chef Martin Yan (R), known worldwide as Yan Can Cook, enjoys picking dragon fruit at an orchard in Binh Thuan
The fruit is widely grown in Binh Thuan Province, about 150 km north of Ho Chi Minh City. Farmers are happy because this news allows them to get a higher price for the fruit they sell.
Entrepreneurs wish to take advantage of a market with "large purchase volume and stable prices." said a representative of Van Binh Company.

A representative of Phuong Giang Company said that Vietnamese fruit can enter a market which is famous for its strict hygiene and safety requirements because Binh Thuan fruit is clean.
About 10,000 hectares of cultivated land yields 200,000 tons of fruit annually. The fruit is exported into China, Malaysia, Thailand, Canada and European countries. Exporting companies want to enter two other large markets: Japan and the United States.
Japanese entrepreneurs are very interested in the fruit. Osaka-based companies have expressed interest in a Vietnamese exporting company. Japanese companies have built a facility that kills germs on the fruit using heat. This facility is why Vietnamese exporters can now export to the U.S.