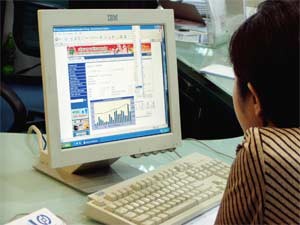 An investor looks for chances at the Vietcombank Securities Company in Ho Chi Minh City. The Viet Nam Investment Fund will provide more chances for investors (Photo: Tuong Thuy)
The Viet Nam Investment Fund (VIF) is due to make debut on March 14, 2006, providing more capital and investment opportunities for investors in different fields.
Running the VND1.6 trillion (US$100 million) fund, based in Ha Noi, is an investment management joint venture between the Bank for Investment and Development of Viet Nam and American firm Vietnam Partners LLC.
Until now, 20 Vietnamese companies have pledged to invest about VND1.12 trillion into the fund. VIF management expects to mobilize the remained money in the next three months.
VIF management says it will use the fund's capital to buy shares of 15 leading State-owned companies in Viet Nam that are being equitized. Investments will also go to housing projects, mining, post and telecoms, and infrastructure development.
The fund will operate with a ten-year term.
Related Links: