Vietnam Association of Seafood Exporters and Producers (VASEP) has refuted claim by State Bank of Vietnam that a loan of VND38 trillion had been given to Pangasius fish breeders and sea food businesses to overcome the current crisis during the first nine months of 2012.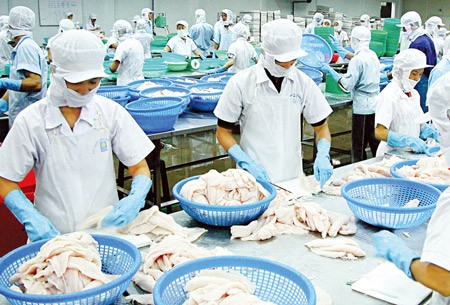 Workers processing Pangasius fish for export in the Mekong Delta province of Dong Thap (Photo: SGGP)
The Ministry of Agriculture and Rural Development has sent a dispatch to Deputy Prime Minister Hoang Trung Hai asking to examine and verify the figure reported by the State Bank.
Earlier this year, the Government had instructed banks to give Pangasius fish breeders and seafood businesses financial assistance for them to overcome their present difficulties.
The State Bank then implemented the Government's policy and reported that they had provided VND38 trillion (US$1.83 billion) in loan in the first nine months of 2012 to more than 6,000 breeders and 250 businesses.
However VASEP said that the actual loan was much lower than the figure quoted. Duong Ngoc Minh, deputy chairman of the association, said that the figure of VND38 trillion was incorrect.
He said that the State Bank reported outstanding loans to the seafood industry to be about VND19 trillionat a meeting in February but the number then rocketed to VND38 trillion seven months later.
The State Bank said that 6,000 breeders and 250 businesses have been given loans, however, most of the 6,000 breeders have their own capital and it is not possible they require bank loans, Mr. Minh said.
A report issued by the association said that only 70 businesses are still able to breed and process Pangasius fish as of now, of these only 15 are operating stably and the remaining are dependent on bank loans, and 15 of these breeders have also become near bankrupt as they have used up the loan to invest in real estate and stocks since 2011, .
As a result, the number of enterprises getting bank loans could not by any account total to 250 as announced by the State Bank, he said.
According to the Ministry of Agriculture and Rural Development, this year Pangasius breeding and exports have continually been facing   difficulties. At present, fish price has fallen to VND20,500-21,700 per kilogram since early December, causing a loss of VND3,000-3,300 a kilogram to farmers in the Mekong Delta.
Deputy Minister Vu Van Tam said that the Pangasius fish export turnover this year will reduce comparatively to last year. Pangasius exporters have been in trouble as they cannot access bank loans or even if they can the loans have decreased a lot since last year.