It is peak time for farmers across the country to prepare vegetables for the approaching Tet holidays. While the supply source in the northern region might see a shortage as intensive cold fronts have damaged vast area, it has been abundant in the central and southern regions and the Central Highlands.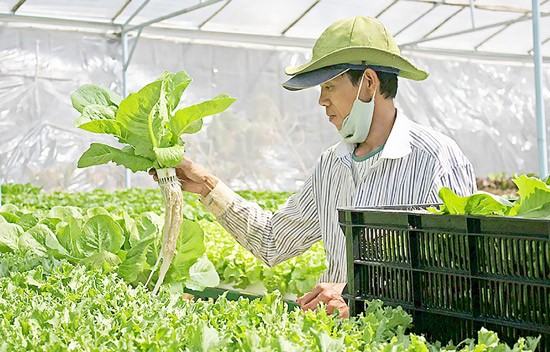 A farmer harvests clean vegetables in Da Lat city (Photo: SGGP)
Mr. Tran Xuan Dinh, deputy head of the Cultivation Department under the Ministry of Agriculture and Rural Development, said that the country has about 172,000 hectares of vegetables with an output of three million tons now, which is sufficient to supply the country's market.
However unusually intense cold fronts have slammed in the northern region and devastated vast vegetable areas.
Authorized agencies are doing damage statistics in vegetable farming zones such as Sa Pa in Lao Cai province and Tam Dao in Vinh Phuc, where have suffered sub zero condition for the last several days. Lao Cai alone has lost nearly 3,000 hectares as of January 26.
Provinces in the Red River delta have also seen the mercury down to 7-8 degrees and freezing rain, which has reduced productivity and output.
The Cultivation Department has instructed localities to assist farmers with seed to resume production for the Tet season and equipment to cope with the freezing cold.
The Domestic Market Department under the Ministry of Industry and Trade forecast that vegetable and fruit prices will increase by 10-15 percent because of yearend high consumption demand in combination with devastating cold fronts.
Farmers in the central region, the Central Highlands and the Mekong Delta have sped up care to timely harvest for the Tet holidays. Supply sources are very abundant with many types of vegetables and able to meet consumers' demand before, during and after Tet.
Da Lat city has prepared hundreds of tons of vegetables for Tet market. Local businesses said that they have signed long term supply contracts with distributors so there will be neither scarcity nor price rocket during the traditional Tet holidays.