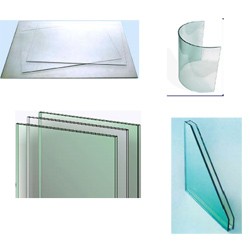 Some kinds of Vietnamese glass
Investors in Viet Nam today have to find export customers before investing in architectural glass production, according to Deputy Minister of Construction Tong Van Nga.
Recently, architectural glass production has been developed rapidly with the turnover of US$190 million and an annual US$20 million worth of export.
The amount of architectural glass manufactured by Vietnamese factories is far exceeding the demand of domestic market.
Truong Son Glass factory of Ky Anh Limited Company produced 12 million square meters (based on the glass manufacture standard) in this year, boosting the production capacity to 87 million square meters.
Viet Nam Glass Industries Limited (VGI) has produced 29 million square meters every year. The yield of architectural glass is estimated to be 21 million square meters more than the demand of market every year.
Meanwhile, a massive volume of imported Chinese architectural glass is making an unlevel playing field in the glass market in Viet Nam.
The Viet Nam Architectural Glass Association (VIEGLASS) has called on the Prime Minister to put a temporary hold on new investments in architectural glass production projects until 2010.
They have also urged related units, in cooperation with local authorities for a strict control of glass import, especially in sea ports.