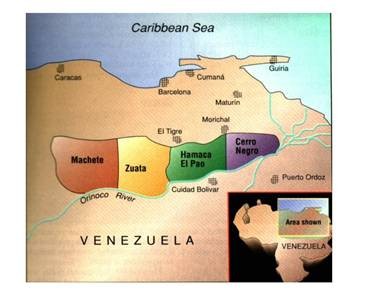 Location of the Orinoco Oil Belt
Prime Minister Nguyen Tan Dung on Dec. 7 agreed in principle to allow the Viet Nam Oil and Gas Corporation to establish a joint venture with the Venezuelan Petroleum Company.
The joint venture is set up to conduct oil and gas exploration and exploitation at the Jinin-2 block in the Orinoco Belt and other blocks in Venezuela, said the Saigon Giai phong on Dec. 8.
The PM also allowed the Viet Nam Oil and Gas Corporation to conduct joint feasibility studies with the Venezuelan side in the construction of an oil refinery and its business, the construction of a system of ports and stores to distribute Venezuelan crude oil and oil products to Viet Nam and other countries in the region, and in the construction of large oil tankers for Venezuela.
Source: VNA