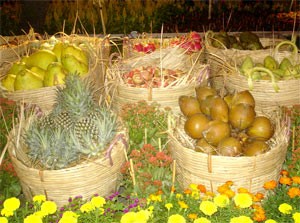 Viet Nam's tropical fruits are now available in foreign markets (Photo: VH)
Viet Nam manufacturers have seen an increase in export value over the years as their products have gained footholds in competitive international markets.
Viet Nam exporters now plan to rapidly expand into several neighboring countries like Japan, Republic of Korea and Territory of Taiwan, along with already established markets in Europe and America.
Most of the manufacturers believe that distinguished designs plus high quality of materials are the main factors contributing to the full confidence of foreign buyers in recent years.
They also agree that these global markets are better production targets as their strict consumers will evaluate and select only good products.
Viet Nam's export turnover
Truong Thanh Wood Processing Company has achieved an export turnover growth of about 30 percent - accounting for a total US$40 million - in the past three years.
The company has announced its plans to place importance on trading more unique wooden products and continue its expansion of sales in foreign markets.
Viet Nam Rubber Company (Geruco) has strived daily to reach the turnover export target of up to US$700 million by 2010 and plans to find new potential partners in global markets.
Vinamit, a fruit processing company, believes that the distinguishable and unique features, along with reasonable prices, are the reasons that foreign consumers choose Vietnamese fruits instead of those from other countries.