Viet Nam needs to promptly make efforts to train  qualified CEOs to help the nation in the growing international competition, heard a Sunday workshop in Ho Chi Minh City.
Economic experts told the workshop that capable CEOs are considered captains who navigate ships in the choppy waters, but a problem in Viet Nam is that the number of 'ships' (enterprises) is increasing fast is not accompanied by an increasing number of capable 'captains'.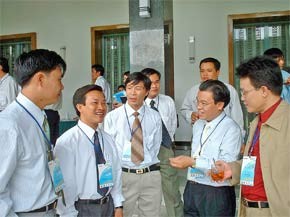 CEOs discuss business at the workshop (Photo: SGGP)
The Government expects that 225,000 enterprises will be set up in the next five years, making a total of 500,000 in 2010. Therefore, the lack of CEOs is seen as a big problem.
A recent survey by the Ministry of Planning and Investment showed that in 63,000 enterprises in 36 provinces and cities, just almost 3% of the owners hold an MA degree or higher, more than 40% have a college or university degree, and 43.3% are of high school degree or lower. Another issue is that few business owners with a college degree or higher have been trained to be a CEO.
Another survey, for over 2,000 business owners having attended CEO training courses at the Research Institute for Economic Development, demonstrated that 15% of them come from business families, 65% used to be managers or officials at State enterprises and have been promoted to higher positions, and the others have taught themselves.
Prof. and Dr. Ho Duc Hung, head of the institute, remarked that most Vietnamese CEOs lack professionalism in business management. He added Vietnamese directors know many things but lack in-depth understanding.
He drafted four essential characteristics of a CEO: foresight, creating his/her own image, having his/her manner and loving renovation.
Prof. Vo Tong Xuan, principal of An Giang University, said the Government needs to introduce more measures to assist Vietnamese enterprises, especially small and medium ones, in getting more knowledge and skills to compete in the time of growing international competition.