German company Messe Düsseldorf Asia and German Industry and Commerce Vietnam invited Vietnamese enterprises Wednesday to attend the Thai International Plastics and Rubber Exhibition for Indochina (TIPREX) September 14-17.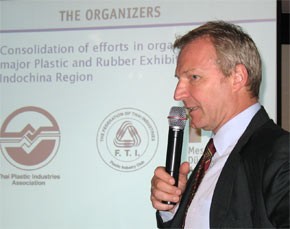 Gernot Ringling briefs the exhibition. (Photo: Tuong Thuy)
"This is the second largest plastics and rubber exhibition in Southeast Asia," said Messe Düsseldorf Asia managing director Gernot Ringling at the event's Vietnamese introduction ceremony in Ho Chi Minh City.

The event will take place at the Bangkok International Trade & Exhibition Center in Thailand with around 200 exhibitors from more than 20 countries in attendance, he said. Among them will be leading companies from Austria, Germany, Italy and Singapore, where some of the most high-tech companies in the industry reside.
The co-organizers of the exhibition are Messe Düsseldorf Asia, the Thai Plastic Industries Association, and the Federation of Thai Industries – Plastic Industry Club.
At the introduction, Vietnam Plastics Association vice president and general secretary Nguyen Dang Cuong asked Ringling to support Viet Nam's plastics and rubber industry.
The managing director said his company plans to set up a joint venture in Viet Nam by 2008 to start working on a similar exhibition in the country. But Viet Nam must have at least one international exhibition center big enough for such international events, he added.
"In order to support Viet Nam most effectively, we must go step by step," Ringling said.
According to Mr. Cuong, one of the biggest problems curbing the Vietnamese plastics industry is that it still has to import 90% of materials. Viet Nam paid US$1.5 billion for such imports last year and the figure is estimated at US$5 billion in 2010. Viet Nam does not currently have the technology necessary to produce the plastics it needs.
Mr. Cuong said that Viet Nam exported US$380 million worth of plastics last year, up 37% on 2004. The estimate for this year ranges from US$500-600 million, while the forecast for 2010 is US$1.2-1.5 billion.
Related links
Thai International Plastics and Rubber Exhibition

Messe Düsseldorf Asia

German Industry and Commerce Vietnam