The Viet Nam – Japan Business Forum (VJBF) debuted in Ha Noi yesterday aiming to explore business opportunities between Japanese and Vietnamese businesses and boost trade cooperation between the two countries.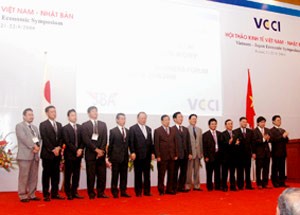 Vietnamese and Japanese officials at the debut ceremony of the Viet Nam-Japan Business Forum
Chairman of the Viet Nam Chamber of Commerce and Industry (VCCI) Vu Tien Loc said that the forum will host symposiums on economics, trade and investment between Viet Nam and Japan as the two countries exchange information on regulations and market developments.
The forum aims to be a place where businesses can voice their opinions on the two Governments' policies.  
The VJBF, organized by VCCI and the Japan Business Association in Viet Nam, will meet every three months and create its own website while publishing a monthly bulletin covering trade and investment between Viet Nam and Japan.
At the debut ceremony, Deputy Prime Minister and Foreign Minister Pham Gia Khiem praised the organization of the business forum especially as Japan is one of Viet Nam's leading trading partners.
Viet Nam – Japan relations have been consistently expanding over the past 30 years and are entering what should be their most fruitful stage thanks to a confident and stable relationship, said Mr. Khiem.
"I hope the forum will be a bridge that links the two countries and supplies essential information and initiates an important dialogue concerning business and government," Deputy Prime Minister Khiem added, "The Vietnamese Government will support the forum in hopes that it will meet businesses aspirations and boost the two countries' relationships."
The forum will cover the many aspects of business opportunities, such as IT development and Viet Nam's overall strategy as its economy continues to fully integrate into the international marketplace.
So far, around 600 Vietnamese and Japanese businesses have registered for the forum's membership, which already entitles them to information on legal documents related to trade and investment in Viet Nam and Japan free of charge.