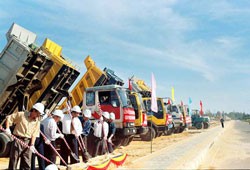 Groundbreaking ceremony of Sai Gon - Dzung Quat subdivision in Dzung Quat Economic Zone

The Viet Nam Oil and Gas Corporation (PetroVietNam) and the Korean LG International Group recently signed a memorandum to build a plastic factory in the Dung Quat economic zone of Quang Ngai province, announced the Management Board of the zone on April 22.
The plastic factory, with a total investment of nearly US$200 million, will be supplied with the propylene source from the Dung Quat oil refinery. It will produce 150,000 tons of polypropylene per year.
The project is part of the investment scheme of the LG International Group in Viet Nam, which is in line with the country's chemical industry development strategy.