Vietnamese businesses are always welcome to invest in Mozambique, Minister of Foreign Affairs and Co-operation of Mozambique Alcinda Abreu told a seminar on opportunities for trade and investment cooperation between Viet Nam and Mozambique in Ha Noi on August 14.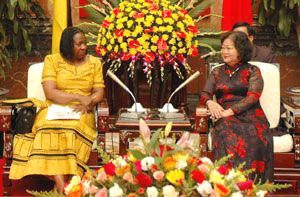 Vice President Truong My Hoa (R) talks with Mozambique Foreign Minister Alcinda Abreu (L)
Minister Alcinda Abreu said that, besides trade, businesses of the two countries could cooperate in such agricultural fields as cultivating wet rice, building irrigation systems and doing aquaculture.
She added that Vietnamese businesses could build factories in Mozambique to process wood, and produce plastic goods for export to the U.S., Europe and elsewhere.
 
General Secretary of the Vietnam Chamber of Commerce and Industry (VCCI) Pham Gia Tuc stressed that Viet Nam would encourage its businesses to survey the Mozambique market and added that he hoped Mozambique businesses would find Viet Nam a noticeable market.
 
According to Vu Thi Them, director of the Africa-West/South Asia Market Department of Viet Nam's Ministry of Trade, trade turnover between the two countries is still low and inconsistent because businesses lack information about each other, and the two countries have no representative organizations to act as a bridge between the two countries' businesses.
 
Last year Viet Nam earned US$32 million from exports to Mozambique, and spent US$35 million on imports from the African nation.