The Ministry of Industry and Trade (MoIT) has forecast Viet Nam's 2008 exports will reach over US$58 billion, an annual increase of over 20 percent.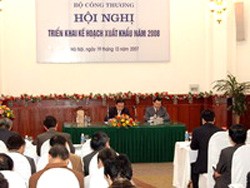 The conference on 2008 export plans
The forecast was presented at a conference held in Ha Noi yesterday to review the country's export plans for the coming year.
 
To attain the target, the ministry is to promote the improvement of traditional export items' quality, expansion of production scales, technology renovation, higher value-added exports and labor-intensive exports.
Crude oil, textiles, garments, footwear, furniture, electronic and computer components, woodworks, handicrafts and rubber products, processed foodstuffs and software services will be among the exports preferred.
 
Textiles and garments are expected to replace crude oil topping the list of biggest earners with expected revenues of some US$9.5 billion. Footwear's export revenues are targeted at US$4.5 billion, and electronic and computer components' at US$3.5 billion.
 
Handicraft and plastic products and wire and cables are expected to join the group of products achieving US$1 billion or more in export revenues.
 
Exports of raw materials and fuels are not planned to increase and may even decline sharply. Coal exports may well drop by 37 percent in volume and 29 percent in revenue over 2008.
 
The MoIT said Japan, Southeast Asia, China, South Korea, the European Union, the US and Australia will remain the country's leading export markets in 2008.
 
In particular, shipments to Africa and southwestern Asia are forecast to grow around 54 percent from 2007 to US$2.8 billion.
 
Speaking at the conference, Deputy Prime Minister Hoang Trung Hai said sustainable development and import-export balance should be key tasks in 2008 and following years.
"It is necessary to perfect market mechanisms and create an equitable, healthy business environment for both domestic and foreign businesses if we are to successfully implement next year's export plans," Mr. Hai said.
 
The Deputy PM also pointed out the need to improve the effectiveness of trade promotion, development of human resources and the operations of trade associations.