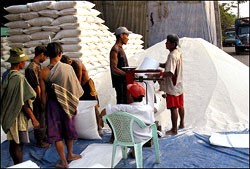 Inspecting rice destined for export
Viet Nam has won a bid to export 17,050 tons of rice to Japan at the price of US$459.16/ton. According to Viet Nam's Business Affairs Department in Japan, the country's export rice volume has been gradually increasing since 2002.
The increase is proof that Viet Nam's rice is competitively priced and satisfies Japan's strict regulations on food safety.
However, the department has advised that local rice exporters strictly inspect all outgoing produce to make sure that agricultural substance residue levels meet the importer's requirements, especially Orysastrobin residue.
Japanese authorities began inspecting imported rice for Orysastrobin residue on September 25, 2006. The accepted Orysastrobin residue level on imported rice is 0.2ppm.
Viet Nam has won three export bids in a row, exporting 45,050 tons of rice to Japan since the beginning of the year.