According to the Vinashin Group, the Eastern Sea Transportation Company has just signed a US$48 million contract with 4 local banks to purchase what will be Viet Nam's biggest oil tanker.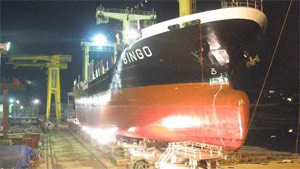 A timber tanker named Bango
Included among the banks involved in the contract are the Sai Gon – Ha Noi Commercial Joint Stock Bank, the Agriculture and Rural Development Bank, the bank of Investment and Development of Viet Nam (BIDV), and VinaSiam Bank (a Vietnamese – Thai joint-venture bank).
The Japanese built ship, named the Ganmur, has a capacity of 47,000 dead weight tonnes, features a double-hull design and is equipped with digital sea charts and global positioning system equipment.