The Vietnamese economy is estimated to rise by 7.2-7.3 percent in the first quarter this year, lower than the 7.4 percent growth in the same period last year, the Dau Tu (Investment) newspaper reported on March 27, 2006.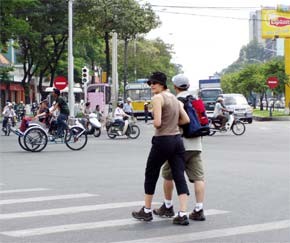 Two foreign visitors tour District 1 in Ho Chi Minh City, an economic hub of Viet Nam (Photo: Tuong Thuy)
The Planning and Investment Ministry's preliminary figures about Ha Noi and Ho Chi Minh City, Vietnam's economic hubs, showed first-quarter gross domestic product (GDP) declines, said the newspaper.
Dau Tu, a publicity organ of the ministry, added the government is expected to release its report for the January-March period by the end of March.
Deputy Planning and Investment Minister Cao Viet Sinh told a government meeting last week that higher world oil price, more competition in the export market and lower-than-expected industrial growth had slowed the pace.
Exports in the first quarter of 2006 were estimated to rise by more than 20 percent from a year earlier, but the monthly value averaged US$2.85 billion, lower than the average US$3.15 billion per month predicted for this year.
Trade experts said textiles and footwear, Viet Nam's key export earners, would run out of quotas for the United States in the second half of 2006.
Industrial growth for the first three months of 2006 was estimated at 14.7 percent, lower than the targeted 15.5 percent.
The government expects the economy to grow by 8 percent or higher this year after an 8.4 percent rate last year.
According to the World Bank forecast, Vietnam's GDP would grow by 7.5 percent this year.