Curently 25 globally leading logistics companies are in operation in Viet Nam. A fierce competition between foreign and Vietnamese companies can be foreseen in the logistics industry. Viet Nam's geographical position is very advantageous for developing logistics centers, and it has recently put the term "logistics" in its amendment to the Commercial Law. Has Viet Nam been well-prepared for a pending fierce competition?
Scattered & Opportunistic Logistics Services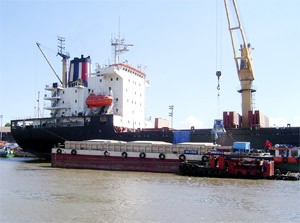 Viet Nam's geographical position is very advantageous for developing logistics centers. (Photo: Y.Ch.)
Deputy General Director of Southern Transport Warehousing Company (Sotrans) Nguyen Hung said, "Logistics is a process of making plans, efficiently controlling transportation lines and inventory and other related services and information."

According to incomplete statistics, there are about 500-600 enterprises currently providing logistics services in Viet Nam. What is so remarkable here is that there has been a boom of this service in Viet Nam.

Pham Tu Anh, an official of Vinatrans International Freight Forwarders, said logistics operation on such a large scale is fine. However, those logistics enterprises are essentially working for foreign companies as the secondary agencies. They provide only secondary logistics services such as customs clearance and transportation.

Some big enterprises can work only as third-level logistics agencies by providing intermediate services between the foreign suppliers and the clients.

In other words, Viet Nam lacks "door to door" logistics service suppliers (the highest fourth-level logistics agency).

A professional logistic operation requires an integration of various services such as transportation, forwarding and customs clearance which can be operated continuously in order to ensure the shipment of commodities from producers via shipment agencies to buyers.

Also, there is no coalition and association among logistics enterprises. There is a serious lack of human resources in logistics. Vietnamese enterprises are not qualified to expand their services to the regional and international markets.
With such reality, many experts thought that the operation of Viet Nam's logistics services is in a "hot" development period while its scale of operation is rather too small and scattered.

Enterprises are ready to compete in prices to attract customers. This is a bad precedent, creating advantages for foreign enterprises to jump into Viet Nam to exploit and threaten the development of Viet Nam's young logistics industry.

Many opportunities for development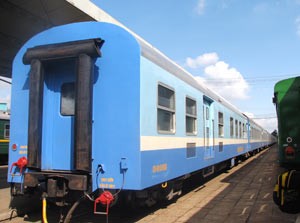 Container transportation on rail roads is encouraged to develop. (Photo: T.C.)
According to economists' surveys, logistics expenditures equal 10% of the total value of commodities traded within a country, and 40% for commodities traded internationally.

Viet Nam has lots of advantages to develop its logistics industry, helping increase the country's GDP.

Mr. Nguyen Hung says in an analysis, "Chances for the development of Viet Nam's logistics when it enters the World Trade Organization (WTO) can be expressed through the following five contents:

First, integration policies. Viet Nam is speeding up its economic integration progress with reforms in mechanism, policies, administrative procedures, and economic and financial law systems, to make them appropriate with international rules.

WTO membership will change Viet Nam into a country open to trade, services and investment.

Second, regional advantages. Viet Nam's geographical position is very advantageous for international transportation as Viet Nam is situated in the strategic area of Southeast Asia.

A 2,000-kilometer coast with many deep-water ports, international airports, transnational rail-road system and transportation network is a good premise for logistics development.

Third, foreign investment funds such as the Official Development Assistance for infrastructure development and rising funds from non-government organizations are increasing.

Fourth, the development of the service sector. This has enabled logistic operations to attract the attention of the State authorities, foreign and local enterprises.

Finally, the improved application of information technology in logistics services; for instance, e-customs clearance, which has been on a trial application at some localities since July 2005, will be applied nationwide by 2007.

E-customs clearance is one of the pre-requisite conditions for Viet Nam's logistics industry to develop, meeting the demands of international economic integration."

Solutions are needed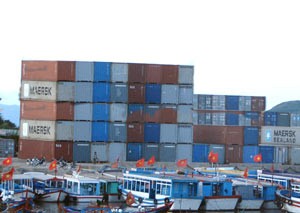 A good warehousing system will be a good premise for logistics development. (Photo: T.C.)
According to Japanese Nomura Institution's researches, Vietnamese logistics enterprises can meet only ¼ of the demands in the logistics market.

There are currently two levels of difference in the development of forwarding business between foreign forwarding agencies (joint-venture) and Vietnamese peers and between the southern area and the rest.
In order to develop the logistics industry, many people said, it is essential to select good foreign investors, build up co-ordinated infrastructures and create favorable and logical conditions for prestigious and talented investors in the logistics field.
Resources of logistics have to be reformed rapidly and comprehensively, including ports, airports, local ports for customs clearance, rail roads, overland roads, warehouses, equipment and related regulations such as taxation, insurance, banking and environment.

All resources should be arranged logically on a co-ordinated planning map in such a way that they can interact and support each other efficiently.

It is also essential to invest in, and upgrade, transportation infrastructure. Container transportation on rail roads is encouraged. Construction of deep water terminal ports in the region should be focused on.

From China's experience, selecting foreign invested capitals in key areas to develop foreign and local transportation plays a very important role in boosting the logistics industry.

Besides, the key developmental issues that need attention and improvement efforts include the standardization of logistics service processes such as doing statistics, setting up an open and selective legal framework, and training logistics human resources at universities and colleges.

A representative of Viet Nam Warehousing and Forwarding Association said the Government needs to have policies and measures to guide and boost the association amongst warehousing and forwarding enterprises to form large and highly competitive enterprises in the region and in the world.

In order to work well in economic integration and create a free service area, Vietnamese enterprises must be capable of providing services in the country before foreign investors can jump in and control this industry.