'Viet Ship 2012'- the 6th International Exhibition on Shipbuilding, Marine Technology and Transportation, opens at the Giang Vo Exhibition Centre in Hanoi on February 28.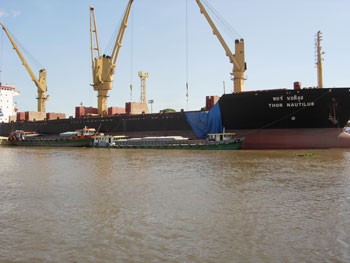 The shipbuilding industry is vital for marine economy. (Photo:KK)
More than 200 local and international companies operating in the field of shipbuilding and maritime industry from Japan, South Korea, China, Holland, Poland will be represented in 300 display booths over a 10,000 square metre exhibition area.
'Viet Ship 2012' is a gathering place for manufacturers and traders of many leading brands in the world.
The displays aim at enhancing cooperation and development, attracting investments, exchanging technology and creating ideal opportunities for trade promotion.
The exhibition also includes forums for experts and enterprises to discuss science, technology, policies and strategies for development of the maritime and shipbuilding industries.
Trading platform and contract signing programmes will be held for the purpose of promoting trade, attracting investments, and expanding cooperation between businesses.
The event will run until March 1.