Vietnam Airlines announced June 16 at the Paris Air Show that it has placed a firm order with Airbus for 16 more single aisle A321s and signed a memorandum of understanding for two additional A350 XWBs, Airbus said.

The latest A321 contract increases the total number of orders placed by Vietnam Airlines for the type to 41, of which 14 have already been delivered.
Airbus said the commitment for the A350 XWBs comes in addition to an existing firm order for 10 aircraft placed in December 2007. Vietnam Airlines has selected the A350-900 variant of the all-new midsize wide body.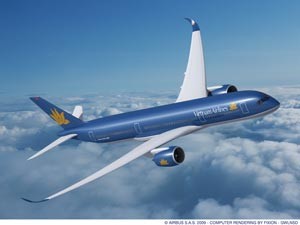 A computer-made photo of Airbus A350 XWB ordered by Vietnam Airlines (Photo: Courtesy of Airbus)
"Our new order for the A321 reflects the success we have achieved with the aircraft on both our regional and domestic route networks," Pham Ngoc Minh, President and Chief Executive Officer of Vietnam Airlines, was quoted by Airbus.
"In the wide body category, we firmly believe that the A350 XWB will set new standards of efficiency and passenger comfort, making it the right choice to develop our intercontinental route network."
Airbus President and CEO Tom Enders said in the June 16 statement, "Vietnam will remain one of the key growth markets in Asia in coming years."
The A321 is the largest member of the Airbus A320 family. It typically seats 185 passengers in a two-class layout and has a non-stop flying range of 3,000 nautical miles or 5,550 kilometres.
The A350 XWB is Airbus' new medium-capacity long-range wide body product. Capable of flying up to 15,400 km, it has the widest fuselage in its category and offers the lowest operating costs and lowest seat mile cost of any aircraft in this market segment.
Vietnam Airlines currently operates a fleet of 52 aircraft and flies to 19 domestic and 23 international destinations. The national flag carrier is investing heavily in its fleet.
Earlier this year, CEO Minh said his carrier was striving to improve its service quality to become Southeast Asia's second biggest airline after Singapore Airlines in 2015.