The national flag carrier Vietnam Airlines is set for its initial public offering (IPO) of shares worth VND1 trillion (US$47.6 million) in Ho Chi Minh City on November 14, pledging to use the generated funds to provide a modern fleet and impeccable service.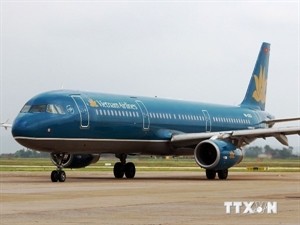 An airplane of Vietnam Airlines (Photo: VNA)
Nearly 49 million shares will be sold at a starting price of VND22,300 (US$1) each, Chairman of the Vietnam Airlines Board Pham Viet Thanh announced at a workshop in Ho Chi Minh City on October 30.
Vietnam Airlines is now worth more than VND57 trillion (US$2.7 billion), including over VND32.6 trillion (US$1.5 billion) invested in aircraft. It recorded an annual growth of 20 percent in revenue and more than 11 percent in passenger volume, higher than the global average.
The government will continue to work toward the goal of developing Vietnam Airlines into a carrier of regional standing between now and 2020, making it highly competitive and influential, Deputy Transport Minister Nguyen Ngoc Dong said.
The carrier will convene the first shareholders' meeting on March 12, 2015.
As a SkyTeam alliance member, Vietnam Airlines remains the largest airline in the country, employing more than 10,000 members of staff.
It now owns more than 80 aircraft and will purchase another 15 by the end of next year.
Vietnam first began State-owned Enterprise (SOE) reforms in the 1980s and there has been talk of equitising Vietnam Airlines since the mid-1990s.