New figures show economic cooperation between Vietnam and Russia is improving 2008, said Voice of Russia Sunday.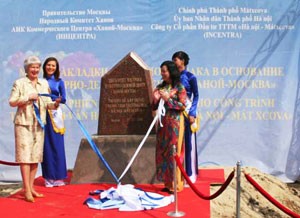 The ground breaking ceremony for Ha Noi Trade and Culture Center in Moscow in July 2008
Unlike previous years when the investment capital flow was only one way, Vietnamese businesses have started to operate in Russia in 2008. Some were very large projects, reported VOR.
The Voice noted Vietnam's three big projects required a serious and long term investment.
The first is an agreement between PetroVietnam and the Russian Zarubezhneft Group which has sold 49 percent of legal capital of its Rus-Viet Petro joint venture to Vietnam's oil exploration flagship. PetroVietnam is looking to drill oil in northern Russia and is scheduled to exploit reserves in 2013. Oil from northern Russia and Vietnam's offshore rigs will be supplied to Dung Quat oil refinery, which will start operations in 2009.
The Voice quoted Russian Deputy Minister of Industry and Trade, Vladimir Solomatov, as saying that this was a daring project due severe weather conditions.
The second is a Vietnamese business investing $1.5 billion in a chemical fertilizer plant in the Republic of Kalmykia. The joint venture is planed to provide its first products in 2013.
The third is a project to build Ha Noi Trade and Culture Center in Moscow, which is funded by Bank for Investment and Development of Vietnam (BIDV). Moscow authorities have reserved a beautiful part of north east Moscow for the center. The complex will include a trade center, cultural and sport area and a 20-story hotel built in traditional Vietnamese architecture.
"The center will open a new era in the cooperation between the two countries because the largest trade project will facilitate business of the Vietnamese community in Russia, end unordered small trading status, help the Vietnamese community to trade, aid tourism and services, and even create new jobs for Russians", the voice quoted BIDV President Tran Bac Ha.
VOR said that despite the global financial crisis BIDV pledged to release the required capital. The center will be completed in 2010 when the 1000th birthday of Ha Noi-Thang Long will be celebrated.