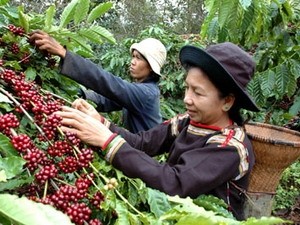 Farmers harvesting coffee in Dak Lak Province
The Vietnam Coffee Export Insurance Fund Management Council under the Vietnam Coffee and Cocoa Association has announced that it will charge export coffee fees of US$2 per tonne effective from October 1.
The fee amount will be invested back into the industry to be distributed proportionally to the different sectors, with 50 per cent going for replanting, 30 per cent for temporary reserve, 10 per cent for quality improvement, and 10 per cent for brand and trade promotion.
The coffee insurance fund was established with the purpose of boosting and improving production, processing and coffee quality; besides mitigating risk in coffee exports, supporting trade promotion activities and market information. In particular, most of the money from the fees fund will be used to increase more varieties of coffee and for better processing methods.