Foreign Direct Investment reached US$6.85 billion in the first half 2014, accounting for 64.7 percent over the same period last year, the Foreign Investment Agency under the Ministry of Planning and Investment has reported.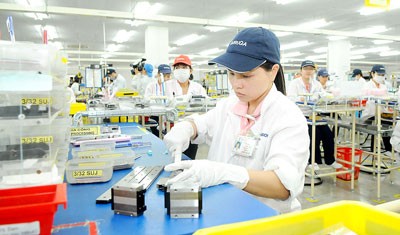 Production of mechanical components at the Japanese Misumi Group in Linh Trung Export Processing Zone, HCMC (Photo: SGGP)
The country had 656 newly licensed projects with total registered capital of US$4.85 billion as of June 20, equivalent to 93.2 percent over the same period last year.
219 projects were registered to increase US$1.99 billion investment capital, equal to 37 percent of the same period last year.
Disbursement of FDI projects hit US$5.75 billion, up 0.9 percent year on year.
Forty one countries and territories have invested in 43 provinces and cities across the country. The South Korea took the lead with $1.55 billion, followed by Hong Kong with $1 billion and Japan of $806 million.
Ho Chi Minh City topped US$886.3 million of FDI projects. At the second and the third positions are Binh Duong Province with $876.05 million and Dong Nai Province with $688.37 million.