Vietnam's export value reached US$130.02 billion as of mid November, up 13.8 percent over the same period last year, and import value hit US$127.83 billion, an increase of 11.7 percent, reported the General Department of Vietnam Customs.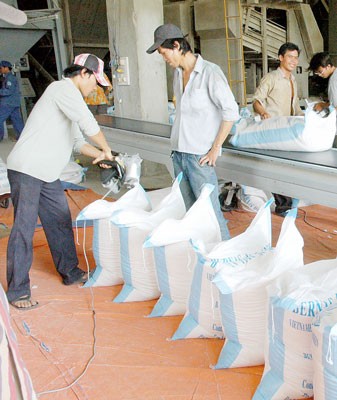 Satake food company workers packing rice into bags for exports (Photo: SGGP)
The total export import turnover gained US$257.85 billion, up 12.7 percent over the same period last year.
In the first half of November, most export items saw a turnover decrease. The most reduction was dropped in the group of cell phone and components with US$240 million.
Garment and textile turnover fell US$212 million, machines and accessories dropped US$210 million and seafood declined US$129 million.
The export value of foreign invested enterprises totaled US$81.03 billion, a year on year increase of 15.1 percent, accounting for 62.3 percent of the country's export value.
The import value amounted to US$71.69 billion, increasing 11.5 percent and occupying 56.9 percent.