Vietnam and the European Union (EU) concluded the 11th and the last round of free trade agreement negotiations in Brussels, the capital of Belgium, on January 23 after five days of sitting.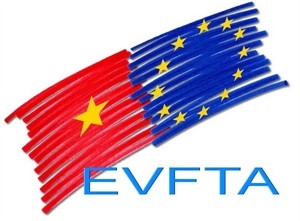 (Photo: VNA)
Deputy Minister of Industry and Trade Tran Quoc Khanh and Director at the European Commission's Directorate General for Trade Patriccione Mauro were chief negotiators.
During the talks which focused on the Market Opening Package, both sides were able to reach common ground on outstanding issues left over from previous talks involving services, investment and public procurement, Director of the Ministry of Industry and Trade's Multilateral Trade Policy Department Luong Hoang Thai told Vietnam News Agency.
He noted that Vietnam also asked the EU to agree with its proposals regarding potential goods for exports in the coming time.
The chief negotiators agreed to submit reports on the outcomes of talks to their leaders so as to make timely adjustments if necessary.
The talks are on the right track as committed by their leaders and the bilateral FTA is expected to be signed as scheduled, Thai confirmed.
The 28-member EU is the world's largest economy with a total gross domestic product of US$ 18 trillion, or 22 percent of the global economic worth.
The group's total trade is estimated at US$ 4 trillion and investment outflows are equivalent to 40 percent of global foreign direct investment.
As of the end of 2013, the EU counted 1,402 valid projects in Vietnam valued at over US$ 18 billion.
The FTA between Vietnam and the EU, once signed, could help expand Vietnam's GDP by 10-15 percent. Vietnam's exports to the EU are likely to soar 30-40 percent with the FTA while the country's imports from the EU are expected to rise by 20-25 percent.