Vietnam Expo 2013 opened at the Saigon Exhibition and Convention Center in District 7 in Ho Chi Minh City on December 4.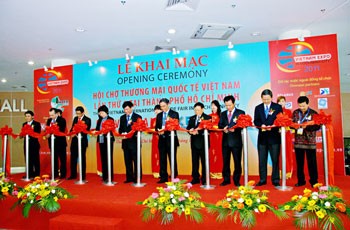 The opening ceremony of Vietnam Expo 2013  (Photo:hcm.vietnamexpo.com) 
The international trade fair attracted more than 300 enterprises from 15 countries and territories such as Malaysia, Japan, South Africa, India, South Korea, Indonesia, Thailand, China and Vietnam.
On display are machinery, electronic products, household appliances, components, interior and exterior décor.
The fair will also include 'Inter Cycle 2013' showcasing bikes, electric bikes, bike components, bicycles for kids, and toys.

Vietnam Expo 2013 is expected to be a destination for enterprises to introduce their products and services, seek business opportunities, and have better understanding of investment and trade promotion in Vietnam in coming years.
The event will run until December 7.