Dung Quat Oil Refinery is accelerating preparations for its gasoline products to be on the market by Mid May.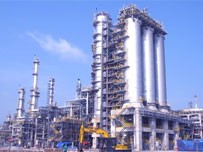 A part of Dung Quat Oil Refinery
Its catalytic reforming unit is capable of producing 1.9 million tons of A90, A92 and A95 gasoline annually.
The oil refinery has already stated to produce Reformate, an essential ingredient of gasoline.
The US$2.5 billion refinery, with an annual capacity of 6.5 million tons of petrochemical products, will meet 30 percent of national demand, contributing to Vietnam's energy security by gradually reducing dependence on gasoline and oil imports.
As planned, the oil refinery will begin operating at full capacity in October.
This year, the refinery expects an output of 2.6 million tons. Its main products will include: LPG, unleaded gasoline, kerosene, and feedstock for propylene plants, diesel and other petrochemicals.