Vietnam has a bountiful variety of fruits but has yet to adopt modern technological methods to cultivate fruits for export.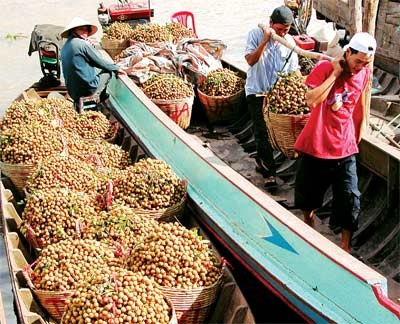 Merchants buy longans from growers in the Mekong Delta province of Vinh Long (Photo: SGGP)
According to the Agriculture and Rural Development Ministry, Vietnam has over
775,000 hectares of orchards that provide 7-8 million tons of fruit annually, yet only 300,000 tons can be exported.
 
Nguyen Minh Chau, head of the Southern Fruit Research Institute said that the country has only two areas under dragon fruit cultivation, one in the central province of Binh Thuan and the other in Tien Giang in the Mekong Delta province.
 
These areas have seen lucrative investments and have been developed methodically to produce high quality dragon fruit to meet with export standards.
 
Other Vietnamese fruits like green skin pomelo, Hoa Loc mango, Lo Ren star apple, Chin Hoa durian, Ri-6 durian and longan are delicious to taste but they have no standardized production quality and hence unfit for export.
 
Mr. Chau also said that farmers were still using traditional methods for preserving and ripening fruits. About 25-30 percent of fruits in the country are speedily ripened by outdated methods which do not allow the fruits to be transported great distances.
In order to expand export markets and boost fruit exports, management agencies need to adopt modern techniques.
 
The Government had marked specific areas for fruit planting for export about ten years ago, but these areas have yet to be developed.
 
The stagnant development of these areas is attributed to the Government's lack of adequate support to farmers.
 
In order for farmers to plant only special fruits for export, they must be provided with fruit tree saplings and financial loans at low interest rates. Besides, proper training on state of the art biological, scientific and technical methods must be provided.
 
According to the Vietnam Vegetable and Fruit Association, turnovers in fruit exports had increased during the last five years but mostly in processed fruits.
 
Dr. Pham Van Du, deputy head of the Cultivation Bureau, has said that the country needs to make technological investments in phases, especially in preservation techniques and in transportation.
 
He believed that the Government must have policies to encourage and create favorable conditions for enterprises to build processing plants at the centre of fruit cultivable areas.