A Vietnam-Nigeria cashew trade conference was held in Ho Chi Minh City on February 3 as part of efforts to boost partnership between the two countries in the field.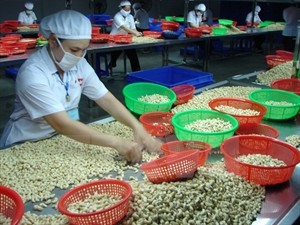 Vietnam and Nigeria promote cashew trade (Photo: VNA)
Addressing the event, Chairman of the Vietnam Cashew Association (Vinacas) Nguyen Duc Thanh addressed the number of difficulties facing cashew trade between the two countries, including modest quality of cashew nuts imported from Nigeria and payment barriers.
At the same time, the two countries have yet to design an effective collaboration mechanism to deal with trade conflicts, he added.
Meanwhile, Chairman of the National Cashew Association of Nigeria Babatotla Faseru said the Nigerian market pledges to improve its raw cashew quality in 2015 by organising training courses for farmers and developing production chains.
Nigeria will also apply advanced equipment and technology to enhance cashew quality, he vowed.
According to the Vinacas, Vietnam will transfer cashew cultivation technology to Nigeria and other African partners during the international cashew conference in November this year. The association is also willing to provide post-harvest technology to Nigeria to reduce loss.
The Vinacas reported that in 2014 Vietnam produced a record 1.4 million tonnes of raw cashew nuts, 305,000 tonnes of which were exported, a rise of 16.9 percent from 2013.
Throughout the year, Vietnamese enterprises imported 769,000 tonnes, a 59 percent increase from 2013. As many as 13.4 percent of the total imports were sourced from from Nigeria.