Vietnam is eyeing a substantial increase in rice exports in the second quarter of the year with several new lucrative contracts, noted Truong Thanh Phong, chairman of Vietnam Food Association.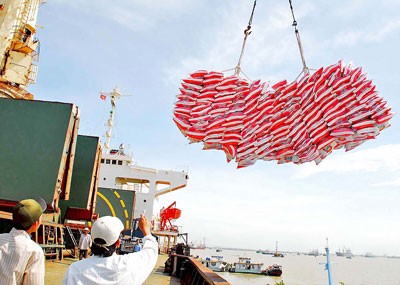 Vietnam eyes substantial increase in rice exports in second quarter (Photo: SGGP)
Mr. Phong was speaking at a conference in Ho Chi Minh City on April 4, to review status of rice exports from Vietnam during the first quarter of the year.
The Southern Food Corporation has received order contracts from the Republic of Guinea for export of 60,000 tons of rice, which is expected to increase to 140,000 by later this year.
Rice exports have also been good to other African countries, Malaysia and in particular China, which has been the largest rice importer from Vietnam since 2012. The country imported about 600,000 tons from Vietnam in the first quarter alone.
At present, businesses are about to deliver more than two million tons of rice and are also expecting further contracts to export another 2.2 million tons in the next few months.
As a result, the rice export volume is likely to top 2.2 million tons in the second quarter. This will take the total volume to 3.65 million tons in the first six months of this year, the highest in last several years.