Vietnam will build more software parks in the next ten years to nurture the development of the country's information and communication technology (ICT) industry, Deputy Prime Minister Nguyen Thien Nhan told reporters on Monday.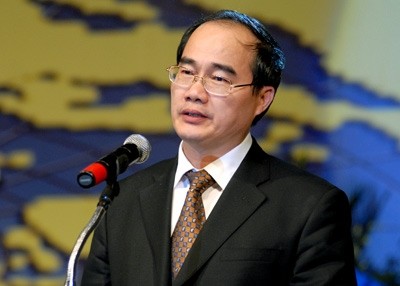 Deputy PM Nguyen Thien Nhan
From the 10-year experience of development of Quang Trung Software City (QTSC) in HCMC, the Government and the Ministry of Information and Communications will support some localities to build and develop more software parks in the next 10 years, Deputy PM Nhan said.
"Other software parks in the future must be developed based on what QTSC has already developed in the past 10 years," The Vice Prime Minister said, adding that the park in HCMC would support others in training ICT human resources and management skills.
By the end of the decade, Vietnam will send well-trained software laborers abroad, and there will be a lot of local software companies well-known in the world, he told reporters at his house in HCMC's District 10 on the occasion of his business trip to the city.
"This is part of the Government's master plan till 2020 to make Vietnam a strong country in ICT. Accordingly, in 2015 Vietnamese enterprises will have enough capacities to design and manufacture equipment to lessen reliance on import, and by 2020, Vietnam will be among the top ten countries in supplying software processing and digital content," he said.
The deputy PM said that to make the master plan a success, Vietnam must solve issues relating to human resources, management, IT infrastructure and investment promotion. The Government is asking the Ministry of Planning and Investment (MPI) to map out a plan for human resource development, including for the ICT sector.
Asked why the MPI, not the education ministry, was mandated to boost manpower development, the deputy prime minister said that in the years to come, more and more local and foreign investors would place orders directly at schools to run training courses suitable with their demands, so the education ministry should not be directly involved.
In addition, Vietnam must do investment promotion better to attract more and more giants in ICT in the world to Vietnam like Intel.
Deputy PM Nhan told reporters that several ICT giants including HP were mulling further investment in Vietnam.
"For example, eight months ago, representatives of HP met me to talk about their plan to develop its software section in Vietnam after making success with their hardware production here," he said. "Next month they are going to receive the license for the investment into QTSC."
He added that this was a good sign for the development of the ICT industry in general and software sector in particular as HP is a big player in the world. Mr. Nhan expected that more giants would come to Vietnam after China and India.
The leader also said that in 2010 the software industry generated a value of US$1 billion, much higher than a mere US$250,000 in 2005. That is not to mention over US$800 million in revenue from the digital content sector in 2010, he said.
"This was a remarkable number," he noted, adding that this showed that Vietnam still has strong potential for software and ICT development.