Even though Vietnam has opened its trade policy and improved on its investment environment, particularly in attracting more Foreign Direct Investment, some believe that the country has still to do much towards attracting more FDI inflow as well as maximise its benefits.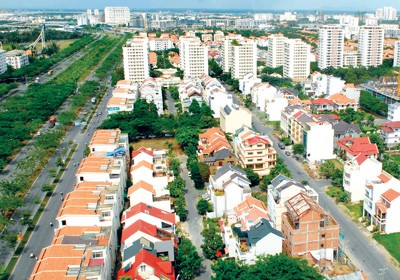 A view of Phu My Hung New Urban Area in Ho Chi Minh City
It cannot be denied that FDI is important for achieving targets in socio-economic growth. During 1999-2000, FDI accounted for 30 per cent of the total investment capital, 16 per cent during 2001-2005 and 28 per cent during 2006-2011.
The FDI contribution to the GDP was 14.5 per cent in 2005 and 20 per cent in 2010, when it added US$3.1 billion to the state budget. The FDI sector also contributed to about 40 per cent towards industrial output.
FDI has shaped many new business sectors in Vietnam like electronics, informatics, oil refineries and petrochemicals by using innovative modern technologies. It has also helped build a human resource of tens of thousands of managers, engineers and highly-skilled workers.
The sector has contributed to the growth of such urban areas like Phu My Hung, Nam Thang Long and many five-star luxury hotels in the city, besides contributing to the fundamental changes in modes of production, distribution and consumption, and the lifestyles of so many Vietnamese people, bringing them closer to world standards.
However, many FDI have also had investment licence revoked, after they were found to be taking advantage of local preferential policies and not implementing projects in time.
Slow FDI disbursement can be attributed to several reasons such as the global economic crisis, slow site clearance or cumbersome administrative procedures.
Nonetheless, by the end of 2011, FDI projects created more than 2.3 million direct jobs and millions of indirect jobs.

Solutions to attract more FDI projects
FDI has been playing an important role and having a large impact on the growth of Vietnam's economy in many aspects.
It is an important additional source of funding for investments and development, helps raise industrial production capacity and boosts technology transfer.
FDI also contribute significantly to the state budget, raise import-export value and sets macro balances; improves public administrative reforms and brings about transparency in the country's investment environment, helping Vietnam to have a greater integration in the global economy.
When Vietnam first opened its door to FDI, it cared more about capital than in quality and socio-economic efficiency. Thus, many small-scale projects worth less than $1 million each were licensed. Due to the limited number of FDI projects at that time, allocation of land for projects was easy.
Nowadays, as the economy has made a significant headway, the assessment towards FDI should change. Quality and efficiency should be the most important measures for judgment, based on which FDI must meet expectations.
The Foreign Investment Department has proposed guidelines for FDI policies including quality and efficiency of FDI projects that need to be assessed so as to suit the socio-economic development strategy of the nation, locality and industry.
A representative of the department said that it is vital that FDI in the new period prioritise hi-tech industries and modern services which use innovative technologies.
According to Dr. Nguyen Mai, former Deputy Chairman of the State Committee for Cooperation and Investment, in order to attract more FDI capital, government needs to improve the legal framework related to FDI and reform state environment management systems both at the central and local levels.
More and more FDI continue to be pour into the country and Vietnam needs the capital to ensure its own economic growth. FDI are valuable assets for Vietnam and it must be smarter in receiving international funds effectively and develop its growth sustainably.