Overseas investment by Vietnamese companies has risen remarkably over the past few years in terms of quantity and scale of projects, the Foreign Investment Department under the Ministry of Planning and Investment reported yesterday.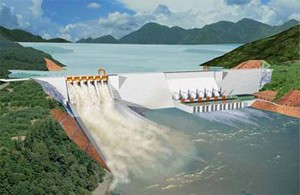 Hydroelectric plants in Laos are Viet Nam's top overseas investment 
After 16 years of encouraging overseas investments, domestic enterprises have invested US$2.5 billion in 317 projects, with US$1.3 billion or 40 percent disbursed as of July.
 
The average investment was US$7.8 million per project.
 
Viet Nam's overseas projects were mainly in the industry and construction sectors, which accounted for 42.9 percent of projects and 69.4 percent of total capital. Services accounted for 38.2 percent of projects and 15.4 percent of total capital, and the rest in agriculture.
 
Vietnamese enterprises have done business in 35 countries and territories, most of which are Asian countries with 167 projects. Laos attracts the most, with 123 projects worth over US$1.28 billion. It was followed by Cambodia with 34 projects worth US$153 million and the United States with US$71 million.
 
Viet Nam's top overseas projects include Sekaman 1 and Sekaman 3 Hydroelectric Plants in Laos worth US$715 million combined. An oil exploration and drilling project in Algeria is worth US$243 million, while the Nam Mo Hydroelectricity Plant in Laos was valued at US$142 million. The Ha Noi-Moscow Trade Center in Russia is worth US$120 million. 
 
PetroVietnam has poured more than US$218 million into 20 overseas projects as of June, with 93 percent of the investment going to exploration and development and the rest to exploitation.
 
Viettel, the military-owned mobile service provider, has to date invested US$44.8 million in four projects in Laos and Cambodia. The company plans to raise the level of investment capital for its mobile service project in Cambodia to US$70 million from the current US$28 million.
 
The FID forecasts that Vietnamese enterprises' overseas investment capital will reach US$500 million in 2008, up 20 percent over last year. This will be also the annual overseas investment level of these enterprises in 2009 and 2010.
 
Addressing a conference to promote Vietnamese overseas investment, MPI deputy minister Cao Viet Sinh said that growth in the level of overseas investment and the number of projects has confirmed the ongoing efforts of Vietnamese businesses to further penetrate the regional and international economic markets, he said.
 
The number of overseas projects, however, had not yet matched Vietnamese business desires and abilities, he noted.
 
In order to promote overseas investment, Vietnamese enterprises should explore more investment opportunities in potential markets such as Laos, Cambodia and Russia, as well as seek new markets which were suitable to local enterprises' capacities, said Mr. Bui Quoc Trung, Foreign Investment Department deputy director.
 
Overseas investment in key sectors needed for the country's economic growth like crude oil, coal, electricity, tin and iron productions need encouragement, he added.