In 2014, export turnover of wood processing industry of Vietnam reached US$6.2 billion. Wood processing industry has posted an average two-digit growth for a long time. However, it is hard to maintain this level of growth in the next one or two decades if Vietnam remains as wood processor.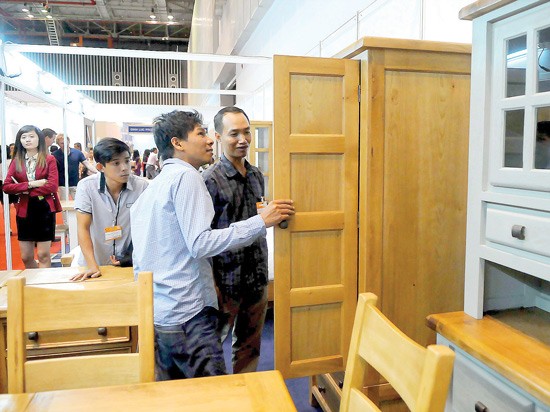 Customers visit the stand of Gecko Company at the VIFA-EXPO 2015. (Photo: SGGP)
Along with the German fair IMM Cologne, every year, the International Furniture Fair of Singapore (IFFS) attracts more than 20,000 visitors from 115 countries. This year, it was held from March 13 to 16. The highlight of the event is the SingaPlural where the showcase features rising design stars from the multi-faceted creative spectrum — Advertising, Architecture, Urban Planning, Landscape Architecture, as well as Interior, Furniture, Graphic and Fashion Design.
 This year, the Handicraft and Wood Industry Association of Ho Chi Minh City (HAWA), for the first time, brought eight works that won Apricot Blossom Furniture Design Competition, organized by the association, from 2010 to date to showcase at the IFFS. The Vietnamese delegation comprised of the representatives of the association, wood businesses, and eight young designers - the owners of eight prize-winning works. At the IFFS, these young designers also had opportunities to join other events, such as Singapore Design Business Summit 2015 where designers and businesses presented and displayed new design projects and new design trends.
 
Architect Nguyen Quoc Khanh, chairman of HAWA, said that the association wants to provide young designers with opportunities to exchange and learn from designers from other countries. Participating in the IFFS is a chance for them to be in contact with global designers and tell the world that Vietnam is ready to join the furniture supply chain, not only as an elite wood processor but also as a country with many skilled and professional furniture designers.
 It is also aimed to make the country become one of a few countries who produce furniture under ODM (Original Design Manufacturer) model in order to gain more value on their products.
According to architect Tran Viet Tien, director of Lavanto Home Décor, through international fairs, furnifure businesses have realized that designing brings more business deals. Instead of passively waiting for customers to come to them, if they have designed products, they will easily seek for customers.
Mr. Khanh said that if Vietnamese wood businesses remain processors, they will not have chances to participate in furniture fairs to have more parters and customers.
In addition, furniture importers will choose the processors who offer lowest prices, hence, wood processors are hardly able to raise their prices. Meanwhile, with self-designed products, wood processors have the upper hand on dealing their prices. Therefore, in order to escape the path of processor, they will have to focus on designing.
 
Some Vietnamese furniture companies, including AA Interior Design Furniture Corporation and Gia Long Joint Stock Company, have successfully become ODM companies with skilled designers.