Officials and labor agencies Monday discussed measures to develop overseas labor markets and provide Vietnamese workers more job opportunities to mitigate the effects of the global economic crisis.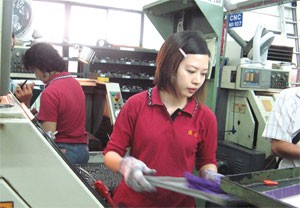 A Vietnamese factory worker in Taiwan (Photo: SGGP)
With the International Labor Organization having forecast that 210 million jobs will be shed in 2009 due to the crisis, many Vietnamese guest workers are likely to return home before the expiry of their contracts.

A Vinaconex executive said some foreign companies continue to employ guest workers but at reduced wages.

The labor firms feared the target of sending 90,000 workers abroad next year set by the Ministry of Labor, Invalids and Social Affairs is too high.

Nguyen Thi Thanh Nhan, general director of Advancing Technologies and Investment Consultants Corporation, said her company had planned to send 12,000 guest workers abroad this year but has managed only half that number.

Workers need training

Deputy Minister of Foreign Affairs Doan Xuan Hung said labor agencies need to expand their markets to developed countries besides consolidating traditional markets.

Nguyen Phu Binh, Vietnam's ambassador to Japan, said the Japanese appreciated Vietnamese workers' skills but only 6,000 are being sent to that country every year.

Workers going to Japan need to be not only trained at their job but also taught Japanese culture and discipline, he added.

Dao Cong Hai, deputy head of the Overseas Labor Management Department, said labor agencies should continue to exploit old markets like Malaysia and the Middle East and they should also focus on training workers.

Deputy Prime Minister Nguyen Sinh Hung said the process of training workers needs to be reviewed, adding vocational training is a major factor in addressing unemployment.

Deputy Minister of Labor, Invalids and Social Affairs Nguyen Thanh Hoa said his ministry has asked the Government to ease the way for 30 labor agencies to obtain loans to provide training to workers in 61 poor districts for sending them abroad.

The Government plans to create 3-3.2 million jobs in 2009-2010 and send 100,000 guest workers abroad annually by 2010, 60 percent of whom will receive vocational training.