In late March, the EU market allowed Vietnamese honey to be imported once again, signaling an opportunity for Vietnamese firms to build back their reputation.
In 2007, when Vietnamese honey was banned in the EU market, most Vietnamese firms shifted to the US market. Since then, the US became the largest honey importer of Vietnam, accounting for 90 percent of honey exports from Vietnam.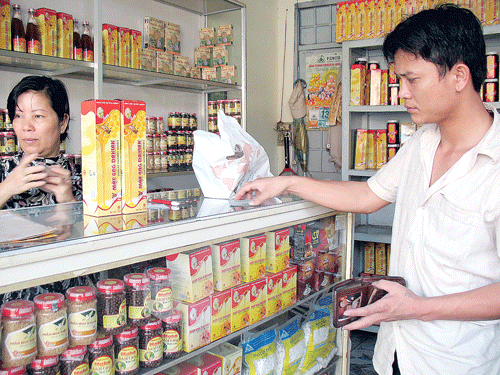 A customer chooses honey products at a shop. (Photo: SGGP)
Same as other export sectors, the dependence on sole market contains many risks. In the last four months of 2011, US importers returned 600 tons of honey to Vietnam for being contaminated with carbenzamin, a chemical contained in the pesticide used to protect trees from mold.
Although the EU standard and the Codex Alimentarius Commission for carbenzamin is 0.01mg/kg, the US totally banned this substance.
According to Dinh Quyet Tam, chairman of Vietnamese Beekeepers Association (VBA), this decision caused firms and beekeepers in Vietnam worry and affected the reputation of Vietnamese honey in the world market.
Last year, the country's honey exports drastically dropped compared to the previous year. In order to save themselves, firms had to seek new markets, such as South Korea and Japan, or even countries in the Middle East.
Therefore, information that the EU has recently approved monitoring plans submitted by third countries, including Vietnam, on fresh animal products has boosted morale of Vietnamese firms. Forecasts say that export of honey from Vietnam will develop further in the future.
Some exporters who used to usually export honey to EU market, including Phuong Nam, Viethoney, and Dakhoney, all have plans to win back consumers in EU market. Nguyen Thanh Thuy, a representative of Dakhoney, said that returning to EU market will help firms lessen dependence on the US market which is holding many risks due to strict technical barriers.
However, this does not mean the doors to EU market have opened. In 2007, EU banned import of honey from Vietnam because it demanded better quality control. According to Mr. Tam, this is a chance for the country to rebuild the reputation of Vietnamese honey. Currently, Vietnam is the world's sixth largest honey exporter, and the second largest in Asia. For the country' beekeeping industry to maintain its position and advance further, the Government should have specific programs.
However, the fact that illicit honey from China was transformed into made-in-Vietnam honey to export, especially to the US market, which seriously damaged the image and reputation of Vietnamese honey products, has been upsetting local honey exporters. Director of a honey export company in Ho Chi Minh City said that local honey exporters expected authorities to join forces to protect the local honey industry. In reality, the US has implemented harsh measures to prevent low-quality honey products from China.
Although the gate to EU market has opened again, firms are not able to reduce honey exports to the US market immediately, because the US currently accounts for 90 percent of Vietnam's total honey exports.
Thus, firms have to find a way to eliminate carbenzamin in honey products for export. Efforts by the Ministry of Agriculture and Rural Development and VBA in negotiations with the US to adjust carbenzamin ratio limits have not showed any optimistic signs. Firms suggested that the ministry should warn and train beekeepers against using this substance and at the same time do research to replace it by another chemical that does not violate regulations of importers.
In addition, in order to maintain supply, firms and authorities should help farmers apply science and technology in beekeeping as the industry has been facing challenges about diseases, and race degeneracy. Now, farmers in some provinces, including Dak Nong and Lao Cai, have applied science and technology projects into beekeeping and received great results.