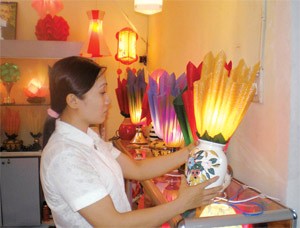 The new colorful lanterns made by Ky Thuat Moi Joint Stock Co.
Ky Thuat Moi Joint Stock Co. has just shipped thousands of plastic lanterns to the United States, Germany, Malaysia, Singapore and Australia.
After its successful first release of lanterns in Autumn 2005, the company, also known as New Technique, is now in its second launching with 30 new designs for celebration of this year's Mid-Autumn Festival.
The colorfully patterned lanterns are made of polypropylene and shaped like stars, houses, fish, balls, cylinders and hexagons. They work off batteries and play a variety of music melodies.
The new lanterns will certainly add novelty to the Mid-Autumn Festival and much to the happiness of Vietnamese children this year.