The Vietnamese Commercial Office in Pakistan is warning that three Vietnamese products are likely to face anti-dumping lawsuits or other safeguard measures from Pakistan under WTO regulations.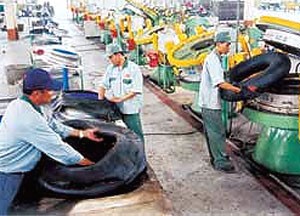 Making inner tubes for export at Casumina factory
Since natural rubber, chewing gum and car and motorbike inner tubes from Viet Nam now make up over 7% of Pakistan's market share, up 30% from last year, Pakistan can have sufficient condition to launch anti-dumping investigations against the three said products according to WTO regulations, the Office said.
In the last ten months, Viet Nam, which joined the WTO last January, earned US$5.1 million from exports of rubber to Pakistan, an annual increase of 963 percent.
Car and motorbike inner tube exports earned US$429,620, up 242 percent, and chewing-gum US$143,756, up 700 percent.