VietnamPlas (Vietnam International Plastics, Packaging, Printing and Foodtech Industry Exhibition) and Linkage Vietnam display a great deal of machines and technologies in Ho Chi Minh City.
The two events are co-held at the Saigon Exhibition and Convention Center in District 7 from September 22 to 25.
VietnamPlas is attended by 225 professional exhibitors from China, Germany, India, Hong Kong, Japan, Malaysia, Singapore, the Netherlands, Taiwan and Vietnam, among others.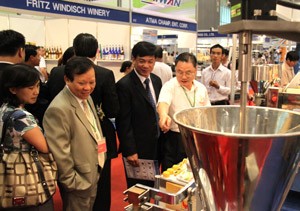 Visitors at the VietnamPlas 2010 in Ho Chi Minh City (Photo: Thuy Hoa)
On show are advanced, high-tech machinery and equipment such as plastic injection molding machines, plastic woven bag machines, turn-key equipment of mold and die manufacturing plant, and other equipment related to packaging, printing, and food processing.
Meanwhile, Linkage Vietnam sees the participation of 130 exhibitors from 12 countries and territories.
Linkage Vietnam focuses on metalworking, industrial automation, energy and electricity, and environmental protection.
The organizers of the two events under one roof are Vietnam's Vinexad, Vietnam Plastics Association, Vietnam Rubber Association, Taiwan's Chan Chao International Co., Ltd, and two Hong Kong partners.