Vietnam's first deep-water port for container ships in Ba Ria – Vung Tau Province, SP-PSA Port, opened May 29.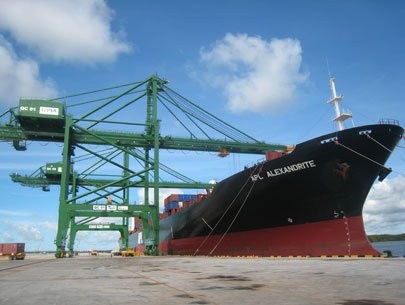 SP-PSA International Port receives the APL Alexandite vessel of 3,821 TEUs on May 28, 2009, a day ahead of the port inauguration. (Photo: Saigon Times)
It received the APL Alexandrite, the largest container ship to ever arrive in Vietnam. It has a loading capacity of 59,560 tons and a capacity of 3,821 twenty-foot equivalent units (TEU). It will begin the first direct container shipping service between Vietnam and the US next week.
The SP-PSA Port is a project between Saigon Port and PSA Singapore, and is being built in two stages.
The first stage, costing US$240 million, has a capacity of 1.1 million TEU with two container wharfs, which are able to receive 80,000 ton ships, and has 27 hectares of land for containers.
The second stage is expected to eventually double the port's capacity to 2.2 million TEU.