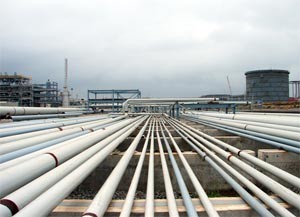 A view of the Dung Quat oil refinery
The Dung Quat oil refinery, Vietnam's first, will launch its products on February 21, four days sooner than planned.
On February 2 it received 80,000 tons of crude oil for processing, the second batch that has been delivered to the refinery that was completed recently in the central province of Quang Ngai.
Around 3,000 technicians, engineers, and workers have been working for the past several months, even during the lunar New Year holidays, to prepare to launch the refinery's first products.