According to a report by the Ministry of Planning and Investment announced on September 27, the country's economy grew 6.52 percent in the first nine months of this year.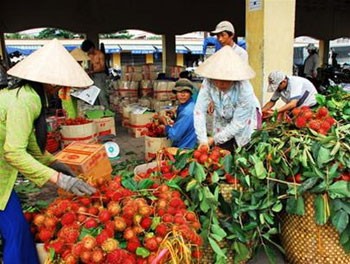 Farmers harvest rambutan fruits in the Mekong Delta.
Experts from the ministry expected that gross domestic product (GDP) might reach 6.7 percent, exceeded the goal of 6.5 percent approved by the National Assembly at the beginning of this year.
Industrial production hit VND574.5 trillion, an increase of 13.8 percent year-on-year. Of which, non-state section rose by 12.7 percent, and foreign investment section climbed 17.4 percent.
Exports, which surged 20.5 percent in the first nine months, much higher than a plan of 6 percent, also contributed positively to economic growth. Trade deficit fell to 16.7 percent.
Deputy minister Dang Huy Dong said that the economic growth continued to move positively as all three main sectors saw higher levels than those of previous year.
Despite optimistic results, the country still faced many issues in the remaining three months, including high trade deficit, and rising prices.