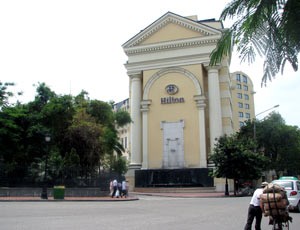 The corner of Hilton Ha Noi Opera hotel. (Photo: T.C)
VinaCapital officially signed the agreement to buyback 70% stake in Hilton Ha Noi Opera hotel from French and German investors. The deal was estimated at US$ 43 million.
Managing Director of VinaCapital Kelvin Lee said the fund choose to invest into Hilton Ha Noi because of its beautiful location, popular brand, and positive performance.
Lee also confirmed that the choice of the hotel for APEC 2006 meetings in November is one of the factors making the fund decide to buyback before November.
The deal doesn't affect the 30% stake of Thang Long Corporation held at Hilton. Don Lam, managing partner and co-founder of VinaCapital, denied any intention to buy the stake of Thang Long Corporation as the company is managing the operation of the hotel very well.
Located in the central area of Ha Noi, near Ha Noi Opera House, and came into operation since 1999, Hilton Ha Noi Opera hotel is one of the few five-star hotels in Ha Noi, having nearly 270 rooms with the room utilizing rate usually staying over 80%. The investment in hotel industry, especially in Ha Noi will be a great success as the rapid growth in demands of tourists and business men while the rooms provided are limited, said VinaCapital's co-founder Horst Geicke.
Hilton Ha Noi is the second best-performing hotel in Ha Noi, behind only Sofitel Metropole – another five-star hotel which VinaCapital also bought 70% stake to be the biggest foreign investors there.
As of now, VinaCapital has invested US$ 75 million in hotels and tourism projects in Ha Noi.
"We are eyeing some other hotels and real property projects in Ha Noi, with the top priorities of VinaCapital to consider being the location, site, and managing partners of these projects," Don Lam added.
In early June, VinaCapital also agreed to invest US$ 100 million in a 260-hectare resort in Da Nang, and considered some projects in Nha Trang and Ho Chi Minh City.
VinaCapital is also carrying on the establishment of technology fund in this August and will introduce it in October. The size of the tech fund will be US$ 50 million. The fund will have no Vietnamese partner and VinaCapital are in talks with an investor in Silicon Valley (the US). The fund will opt to invest in information communication technology enterprises in Viet Nam.